CENTER RENOVATION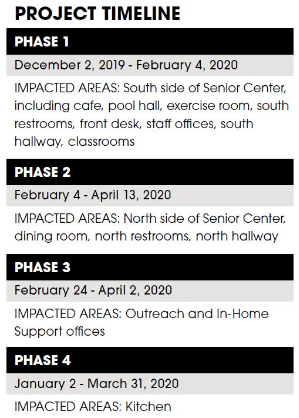 We are excited to share that the Mesa Senior Center is set to undergo a major renovation! The City of Mesa, which provides us our Mesa Senior Center facility without charge through a long-term lease, recently approved this project. The renovation work will be conducted in phases, enabling us to continue offering our programs and services for our participants, with minimal disruption.  
The renovation project is scheduled to include the following priority areas:
Replace air conditioning / heating throughout the facility
Replace fire alarm system and similar infrastructure throughout the facility
Rebuild a portion of the kitchen, including the replacement of walk-in freezer and cooler
Enlarge the Café
Replace lighting and flooring and paint ceilings in most of the facility
The summary project timeline dates shown on this page are tentative drafts only and are expected to change:
Aster will remain open and continue to offer our programs and services during the renovation project. We apologize in advance for any inconvenience that the construction may cause.  
If you have questions about the renovation project, please contact Carol Dopudja, Program Operations Director, or Deborah Schaus, CEO.  If we do not know the answer to your question, we will do our best to find out. Thank you in advance for your patience!